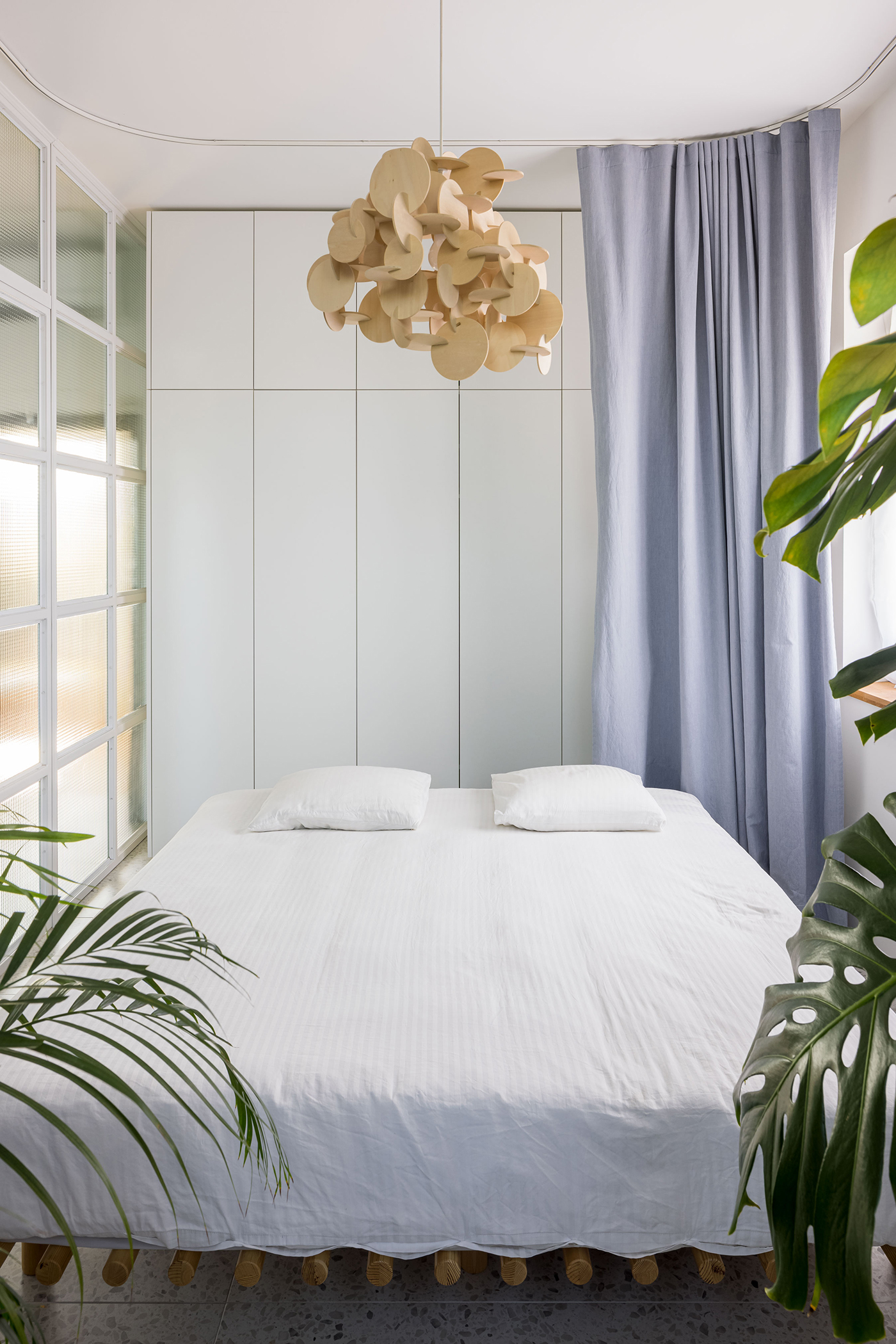 The moment we enter the apartment, the beautiful view of the Alps in the distance captures our attention. The apartment has been designed to make the most of this view and to create an open and welcoming space. The new spatial organization follows not only the logic of orientation of the sky, street noise reduction, and adapting to common facilities and house installations, but also the idea of opening up to the outdoors and creating softer boundaries within the apartment.


As a result of these varied conditions and requests, the apartment has an unconventional layout. From the entrance, you can walk right into the bedroom, while the living room and kitchen are the rooms that are furthest away from the entrance. From a dark stairwell, you enter a space filled with intense light. However, the bedroom still offers a safe shelter: behind a wire glass wall, a second shell, a thick blue curtain snuggly wraps the bed in a soft cocoon. The character of this space changes dramatically at night, changing from a big, bright space into a cozy small refuge.


Before the renovation, the apartment was in a bad shape. Only the high ceilings and views were left, everything else turned into problems and needed an overhaul: from the floors to the roof, walls, and installations.
The apartment faces three directions, except for the south. The hallway used to be dark and small with many tiny spaces around it. Now it's only softly separated, with a glass wall and a curtain, or a hidden door in the wardrobe that separates the bathroom from the rest of the space.
The eastern part of the apartment is defined by floor tiles, featuring a distinctly reserved and tranquil color palette. The western part is characterized by oak parquet, still bright, but with vibrant colors and a greater variety of textures and materials. A bold black door separates these two areas.


With large roof windows and ample natural light, it's evident that we're at the top of the building, yet thanks to the high ceilings, there's no sense of being in an attic. The apartment feels light, bright and playful.


The diverse and thoughtfully planned lighting is an additional element that allows us to create different atmospheres and moods at night. Since there's no outdoor space like a balcony, a small indoor garden has been added in the bedroom, right under the roof windows - a rich, green oasis.

Location
Ljubljana

Surface
65 m2

Program
renovation of an apartment

Project
constructed

Year
2019

Investor
Private

Photography
Aleš Rosa